2022 Michigan Annual Conference
Thursday, June 2 ~ Saturday, June 4, 2022
At the Grand Traverse Resort, Acme MI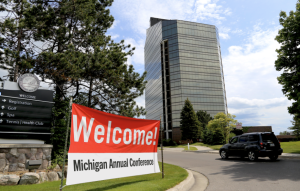 We're back! The Commission on The Annual Conference Session is pleased to announce the return to an in-person gathering at the Grand Traverse Resort this year. Annual Conference will be slightly shorter this year, starting with Clergy Session on Wednesday, June 1 at 1:00 pm (Clergy and BOM only). Conference Opening Worship and Memorial Service for all members begins Thursday, June 2 at 1:00 pm. and Annual Conference concludes at 5:00 pm Saturday, June 4.  Save these dates now.  In addition, members to Annual Conference should set aside the evenings of May 24-26 to attend virtual legislative sessions.
Based on Psalm 30, our theme, "Mourning to Dancing"  will focus on resiliency as our church journeys through pandemics, denominational, and social change.  Preachers, speakers, and teaching sessions will be announced in January.  Those attending as members are requested to be fully vaccinated and masks will be required at all times. 
Members to Annual Conference are encouraged to confirm with their local church administrator to assure their names are listed in the Brick River database so they receive important and timely information about registration, pre-conference reports, and invitations to ZOOM gatherings. 
Registration will begin on Tuesday, March 1st.  Legislation involving financial implications are due February 1.  Legislation without financial implications are due February 15.  Full information on how to submit legislation can be found on the 2022 Annual Conference Website.